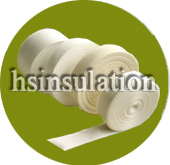 Silicon rubber selt-adhesive tape is a kind of good insulation adhesive tape.It can be adhered at object evenly after 4 hours under 180 and 24 hours under normal temperature.The Adhesive tape has 10% - 100% elongation.
The product has electrical appliance features such as heat resistance,cold resistance,weather,moisture,ozone and corona discharge resistance.
Appliance:
1).The insulation for cable ends
2).The insulation for H-type dry transformers
3).The insulation for vehicle motors
4).The insulation for electric product repairinf(H type)
5).The fixation for heaters
6).Urgency and emergency adhesive tape

Non-alkali fiberglass tape is woven of non-alkali fiberglass. With its feature of heat-resistance and insulation, The main component is E-glass, oxidation potassium, oxidation sodium, for which the content of oxidation of alkli metals is no more than 0.5.
Characteristics: this product has good thermal resistance, excellent insulating, and corrosion resistance.
Application: it can be used as wrapping and banding material for transformers, electric motors and cables.
Thickness(mm): 0.100±0.010, 0.170±0.015
Width(mm): 20, 25, 50

Polyimide Adhesive Tape
1) Materials: Polyimide Film Single Side Coated with Acrylic/Silicone Adhesive.
2) This kind of tape is made of polyimide material with Acrylic/Silicone adhesive,which shows excellent dielectric insulation properties, high heat resistant and is widely used for electrical insulation on motor, transformer, coils and so on.
3) Color: Amber
4) Thickness:0.06mm , 0.10mm
5) Testing temperature: -70-180℃
6) Tensile: ≥70Mpa
7) Breakdown strength: ≥90 MV/m

Polyimide Film Tape
1) Materials:polyimide film coated or laminated on one or both sides with Teflon FEP fluoropolymer.specially for magnetic wire and cable, also for user adhesive insulation material.
2) The tape is not with adhesive performance at the normal temperature,the temperature should reach 300℃ in order to be adhesive.
3) Color: Amber
4) Total thickness: 38±4μm
5)Tearing strength: ≥6N/25mm
6)Breakdown voltage: ≥6KV
7)It can bu used on heater circuits, heat sealable bags, automotive diaphragms and manifolds, magnetic wire insulating.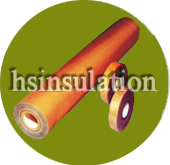 Varnished Fiberglass Cloth

:

2210 Oil Varnished Silk/2310 Polyamide Fabric
2210 Oil Varnished Silk is made from the silk, i. E., insulating silk, and then, in the process of dipping in the oily paint and drying.
Characteris:
It is Class A insulating material.
It has good electrical and mechanical performances, it will be used at 105 centigrade temperature or less for a long period.
Application:
It can be used for the binding and insulating materials for the electric motor, appliance, etc.

2432 Alkyd varnished glass cloth
It is prepared by impregnating the electrical glass cloth with alkyd resin by baking treatment. With high mechanical strength and electrical properties, used for the insulating binding and liner of the electrical appliances.
Thickness:0.10 mm;0.12 mm;0.15 mm;0.18 mm;0.20 mm;0.25 mm;0.30mm
Width:15 mm;20 mm;25 mm;50 mm;1000 mm;1200mm

2440 Polyester Varnished Glass Fabric
It is manufactured by electrical non-alkali fiberglass fabric which is impregnated uniformly with modified polyester varnish, then to be cured and dried off. Its thermal Class is F (155 Centigrade), and has higher electrical and mechanical properties. It is suitable for wrapping and lining insulation of motors and electrical appliances.

2450 Silicone Varnished Glass Cloth
Basic Material: E-glass fiber cloth
Impregnated Varnish: Organic silicon varnish
Temp. class: F(180oC)
Features and Applications:
- Excellent heat resistance, elasticity, good fungus, cold and oil resistance.
- As coil insulation for H-Grade motors and electric appliances.
Available: In rolls, in strips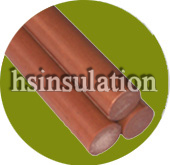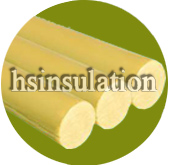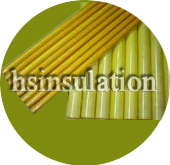 Phenolic Cotton Cloth Laminated Rod
is made of cotton cloth that has been impregnated with an phenolic resin by process of molding.It has good mechanical and electrical properties that can be easily machined.They are more economical than metal parts.
Density : 1.25 g/cm3
Bending Strength : 117.6MPa (min)
Tensile Strength : 78.4 MPa (min)
Breakdown Strength(min) : 10.0 KV (Parallel to Lamination at 20C in oil)
Insulation Resistivity(min) : 1x10e8 Ω (Perpendicular to Lamination)
Water Absorption (max) : 1.0 %(1.0 mm)

3840 Epoxy Phenolic Glass Cloth Laminated Rod
is made of glass cloth impregnated epoxy phenolic resin by moulding and processing under heat and pressure.
Products application:
Used for electric and mechanical equipment,It has better dielectric feature at normal humidity.
specifications: Length:1000mm.
Diameter:8 to 200mm.
Advantages: With high mechanical and electrical properties


Epoxy glass cloth rod(3841,3842,3848)
Mechanical and electrical application, good moisture resistance
according to different mechanical and electrical application grade, We need supply different quality grade,
If need F grade fire resistance, we need supply 3841F
Dia: 8mm to 300mm
Length: 1000mm