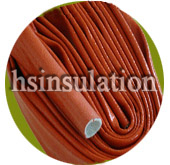 Fire Sleeving (Fire Hose)
Firesleeve - Silicone Coated Fibreglass Sleeve
Knitted high bulk glass fibre sleeve can withstand repeated exposures to molten steel molten aluminum and molten glass up to 3000°F (1650°C).
The heavy coating of our proprietary iron oxide red silicone rubber compound sheds molten metal splash immediately so very little heat transfer occurs.
When exposed to flame the silicone rubber transforms into a crust creating a protective SiO2 refractory layer.
This product also possesses following features:
1)Impede heat radiation of flame
2) Protect operator from burning by hot pipe
3) Impede heat lost and favor to saving energy
4) Moisture-proof, water-proof, resistance to oil and pollution
5) Color: red and blue mainly.
Diameter(mm):6,8,10,15,20,25,30,35,40,45,50,55,60,65,70,75,80,90,100,110,120,130;


Silver Silicon Sleeve

Which is an insulating sleeving produced with a thermal process.The fiberglass is impregnated with silicone resin;it is available in four standard voltage: 7000 Volt.The thermal treatment and the spcial resin used for this item give this material a very good softness and elasticity, excellent high temperature resistance and good dielectric strength.
Inside Diameter: 1.0---30mm
Thermal Class: Grade H(200℃-30℃) random peaks of 225℃.
Breakdown voltage: According to UL 1441 VW-1.


Thermo Sleeve
Heavy wall braided glass fiber sleeve: economical hose and cable protection where exposure to molten splash, oils or moisture is Cost-efficient high temperature performance
Thermosleeeve B is a heavy wall braided glass fiber sleeve capable of operating at a continuous temperature of 1000°F (538°C). High bulk fiber construction gives excellent insulation properties, and the texturized, untreated construction allows Thermo sleeve to exhibit excellent dielectric strength and resistance to thermal conductivity.
Use alone or in combination
Thermo sleeve can be used by itself, or under other sleeve products (such as Firesleeve ) to significantly boost insulation values at modest cost.
Inner diameter: From 1/4" to 5", 6.3MM to 127MM
Thermo sleeve is available in 1grades: 1/8" (3.2 mm) wall thickness
Max short term exposure: 705
Flame resistance: Very good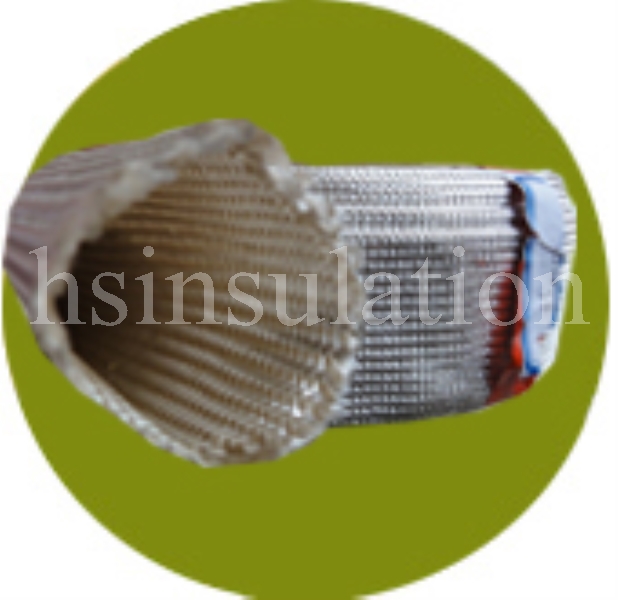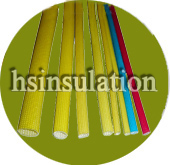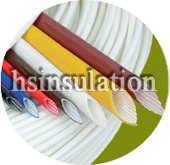 Heat Treated Glass Sleeving

Heat Treated and Saturated Fiberglass Sleeving
Hardly inflameable and heat resistant,Good abrasive quality
Excellent flexibility ,Good resistant against oil and chemicals
Thermal Class: 240 ℃ NEMA: TF-2
Recomended Use:
HTG-850 is used in high temperature, low voltage applications such as shunts in carbon brushes, toasters, coffeemakers and other small heating appliances. Its flexibility and expandability makes HTG-850 highly useful over irregular shapes such as coil insulation on rotating equipment. HTG-850 is also used for thermal and cut-through protection in automotive wire harness assemblies as well as track, stage and other types of lighting devices.
Physical Properties:
HTG-850 exhibits high tensile strength, is non-flammable, heat resistant, and non-corrosive to metals. HTG-850 has excellent resistance to moisture, fungus and chemical attack.
Colors:HTG-850 is available in dark brown, black, tan, red and yellow

Acrylic Fiberglass Sleeving

Features:
1) Resistant temperature: 155°C
2) High breakdown voltage: 7,000V; middle breakdown voltage: 4,000V;
low breakdown voltage: 2,500V
Application:
1) Acrylic fiberglass sleeving is woven with non-alkali fiberglass yarn, and then
coated with acrylic acid
2) It can be used for the insulating protection of motor, electrical and electronic equipment
Silicone Rubber Fiberglass Sleeving
With good quality of high temperature resistance and cold resistance
Treated by thermal process and vulcanization
Material: non-alkali fiberglass braided silicone rubber
Can be used as wiring insulator for "H" grade electrical machinery, special bulbs, electrical rich cookers as well as other household appliance and their protection device
Characteristics:

Standard color: white, red, blue, black and yellow
Standard packing: 100 meters/roll
Standard voltage: 4 and 7KV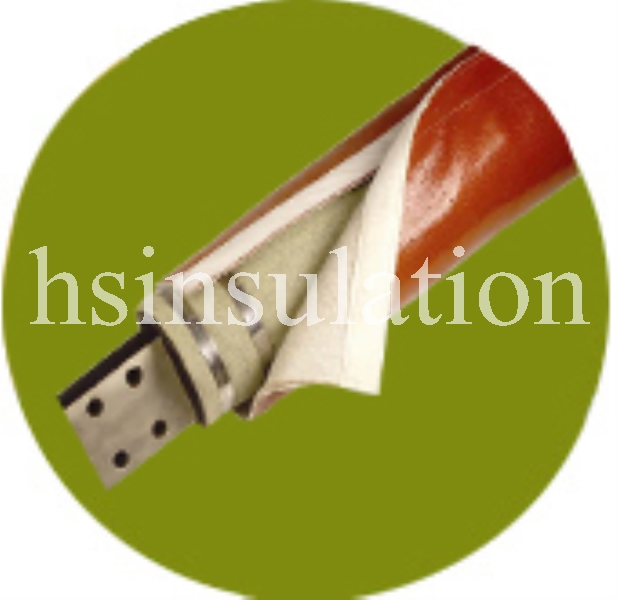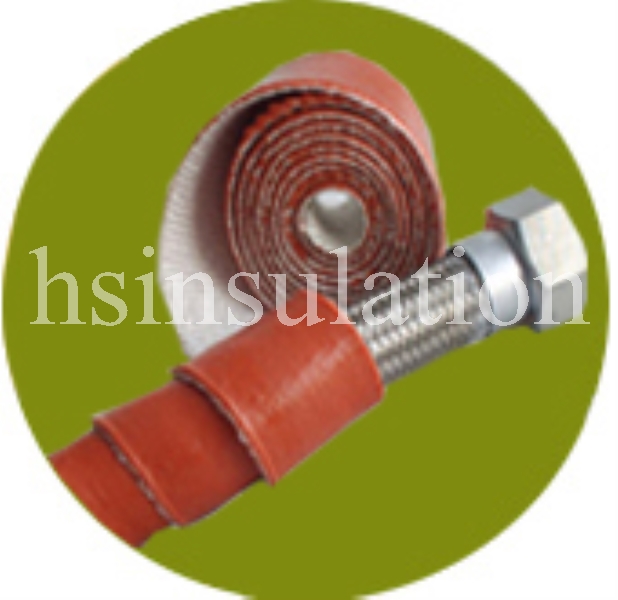 Silicone Fibreglass Blanket (32oz , 96oz) is a high temperature resistant fabric designed to shed weld spatter and resist radiant heat and flame. It is constructed from a fiberglass base cloth and coated both sides with a specially compounded iron oxide red silicone rubber.
Appliance:
1) High temperature resistance, low temperature, good insulation (-70 ℃ -260 ℃).
2) Resistant to chemical corrosion, anti-oil-water (can be scrubbed).
3) Characteristic: greaseproof, waterproof, for large-scale protection
4) Breaking strengthn: 1500---3800 /50mm ; Bursting trength: 2.0---2.2 Mpa ; Combustible: ≤25%
5) Width: 36" (915mm) & 60" (1525mm) ; Thickness:0.13mm--2.00mm


Silicone Fibreglass Tape is a knitted high bulk glass fiber tape, heavily coated with our proprietary compound of iron oxide red silicone rubber. The specially designed compound sheds molten metal splash immediately, so very little heat transfer occurs. Widely used in Metallurgy, Chemical industry, Aviation. Hose,oil tube,Cable protection or as a cover in extreme environments where serviceability is required.
Appliance:
1) withstand 500F/260C continuous exposure
2) Resistant to chemical corrosion, anti-oil-water (can be scrubbed).
3) High insulation, dielectric constant 3-3.2, breakdown voltage 20-50kv/mm.
4) Width: 25mm, 50mm, 75mm , 100mm
Silicon Rubber Selt-Adhesive Tape is a kind of good insulation adhesive tape.It can be adhered at object evenly after 4 hours under 180 and 24 hours under normal temperature.The Adhesive tape has 10% - 100% elongation.
The product has electrical appliance features such as heat resistance,cold resistance,weather,moisture,ozone and corona discharge resistance.
Appliance:
1).The insulation for cable ends
2).The insulation for H-type dry transformers
3).The insulation for vehicle motors
4).The insulation for electric product repairinf(H type)
5).The fixation for heaters
6).Urgency and emergency adhesive tape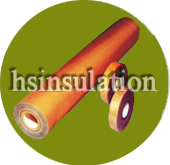 Varnished Fiberglass Cloth

:

2210 Oil Varnished Silk/2310 Polyamide Fabric
2210 Oil Varnished Silk is made from the silk, i. E., insulating silk, and then, in the process of dipping in the oily paint and drying.
Characteris:
It is Class A insulating material.
It has good electrical and mechanical performances, it will be used at 105 centigrade temperature or less for a long period.
Application:
It can be used for the binding and insulating materials for the electric motor, appliance, etc.

2432 Alkyd Varnished Glass Cloth
It is prepared by impregnating the electrical glass cloth with alkyd resin by baking treatment. With high mechanical strength and electrical properties, used for the insulating binding and liner of the electrical appliances.
Thickness:0.10 mm;0.12 mm;0.15 mm;0.18 mm;0.20 mm;0.25 mm;0.30mm
Width:15 mm;20 mm;25 mm;50 mm;1000 mm;1200mm

2440 Polyester Varnished Glass Fabric
It is manufactured by electrical non-alkali fiberglass fabric which is impregnated uniformly with modified polyester varnish, then to be cured and dried off. Its thermal Class is F (155 Centigrade), and has higher electrical and mechanical properties. It is suitable for wrapping and lining insulation of motors and electrical appliances.

2450 Silicone Varnished Glass Cloth
Basic Material: E-glass fiber cloth
Impregnated Varnish: Organic silicon varnish
Temp. class: F(180oC)
Features and Applications:
- Excellent heat resistance, elasticity, good fungus, cold and oil resistance.
- As coil insulation for H-Grade motors and electric appliances.
Available: In rolls, in strips